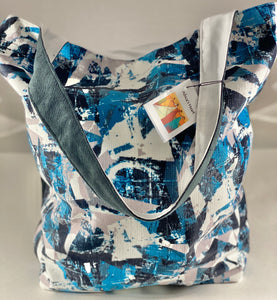 Listen/Watch the Story Behind the Product
Africa's Heart bags come from Israel where they are made by women healing from sexual exploitation, abuse, and trauma. Why is the brand called Africa's Heart when they come from Israel? Well we encourage you to listen to the story on The Talking Story Podcast, but in short, these bags are created by refugees from Africa who have found safety in Israel. By purchasing these bags, you are empowering a woman to buy basic necessities for herself and her children. This fair trade, hand made, sustainable bag is great to use as a purse, beach bag, shopping bag, or organization bag. Made with thick material, these bags are durable and will last a long time!
There are 2 pockets on the inside, great for holding cell phones, keys, and other small things that can get lost in a big bag.
The seamstress of each bag signs her name on the tag, so you have a personal connection to the item and can think and pray for her on her healing journey.
14 inches long
14.5 inches wide
From www.africasheart.com
"In recent months, we have been receiving women who have been severely traumatized at the hands of the Bedouins who smuggle them across the Egyptian/Israeli border. In seeing the condition in which these refugees arrived, many of them stripped of their identity and both physically and emotionally broken, we recognized that there was a tremendous need to build their sense of self worth and value.
As a number of the women were pregnant or with newborn babies and, in most cases, unable to work outside the shelter, the project had to take place on our property and without extensive training. One of our staff asked the interested women what kind of handicraft they were already skilled in doing. She then purchased the necessary materials and began meeting with the project participants on a regular basis to oversee their work. Within weeks, the women were producing creative and unique pieces of handiwork – crocheted, embroidered, and assembled by hand. The project, named "Africa's Heart" was born...
We continue to explore possibilities for expanding the types of handiwork produced by the women, and to see even greater professionalism in their work. However, the greatest rewards are in seeing the positive changes in a woman's self-perception and sense of personal value.
*note each bag is handmade and patterns may look slightly different than picture