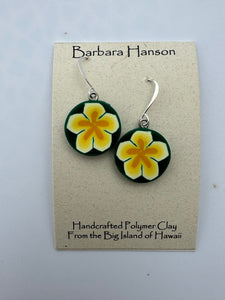 These Yellow plumeria set in green earrings are made by Big Island artist, Barbara Hanson. It's lightweight, durable, and waterproof.  Hook is made of sterling silver. 
Her craft is inspired by the beauty of the islands, Hawaiian culture and the love of her Ohana.  Unique, handmade and colorful, her intricate art form begins by mixing colors and working the clay into "canes" creating the signature patterns distinguishing her work.
Each earring comes in an organza bag, with cards explaining the process.